Happy World Card Making Day!!!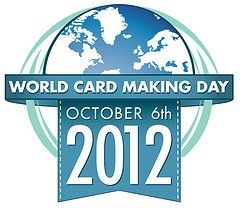 I'm hosting a challenge over at
Unity Stamp Company
- and I'm super excited!
I hope that all Unity fans can join us over there for hourly challenges for your chance to win some amazing prizes!
So... did you plan this day in advance so you can craft all day? (hehe... as much as I would've LOVED to... I have a working hubby and 3 children... I am going to try, but I don't think it's good parenting to hand them over my ipad and iphone all day!)
Unity is giving away
AWESOME
prizes! There's a NEW challenge held HOURLY and the winners of those will receive $25 gift card to Unity!
BUT... if you complete all the challenges (you do NOT have to complete within the hour! You have until the 20th to complete the challenges!) - you will be entered for a
GRAND PRIZE
... which is a YEAR SUBSCRIPTION to Kit of the Month! ...AND there will be TWO WINNERS!
Now that's worth playing for, right?
(Oh, and if you also complete the Sketch and Theme Challenge - you get a BONUS entry for this, too!)
(I'm going to repost most of what I posted in Unity blog - for more exposure!
Lucky you though - my blog has more pics of my card! lol...)


For this challenge - it's all about
TEXTURE
.
I love adding texture into my projects.
It simply adds interest.
Texture can come in various forms...
embossed paper.
embossed stamps.
add glitter.
use fabric.
(my fave is canvas and burlap.)
sew it.
add lace trims.
use twine.
corrugated cardboards.
sandpaper! (lol...)
Well, I'm sure you all know what I mean now!
So for this challenge -
Create a card using AT LEAST TWO different textures.
Easy peasy, right?
For an inspiration card, I made a 'give thanks' card...
because for all us Canadians, it's a Thanksgiving weekend!
Happy Thanksgiving to you!
(Gobble, gobble!)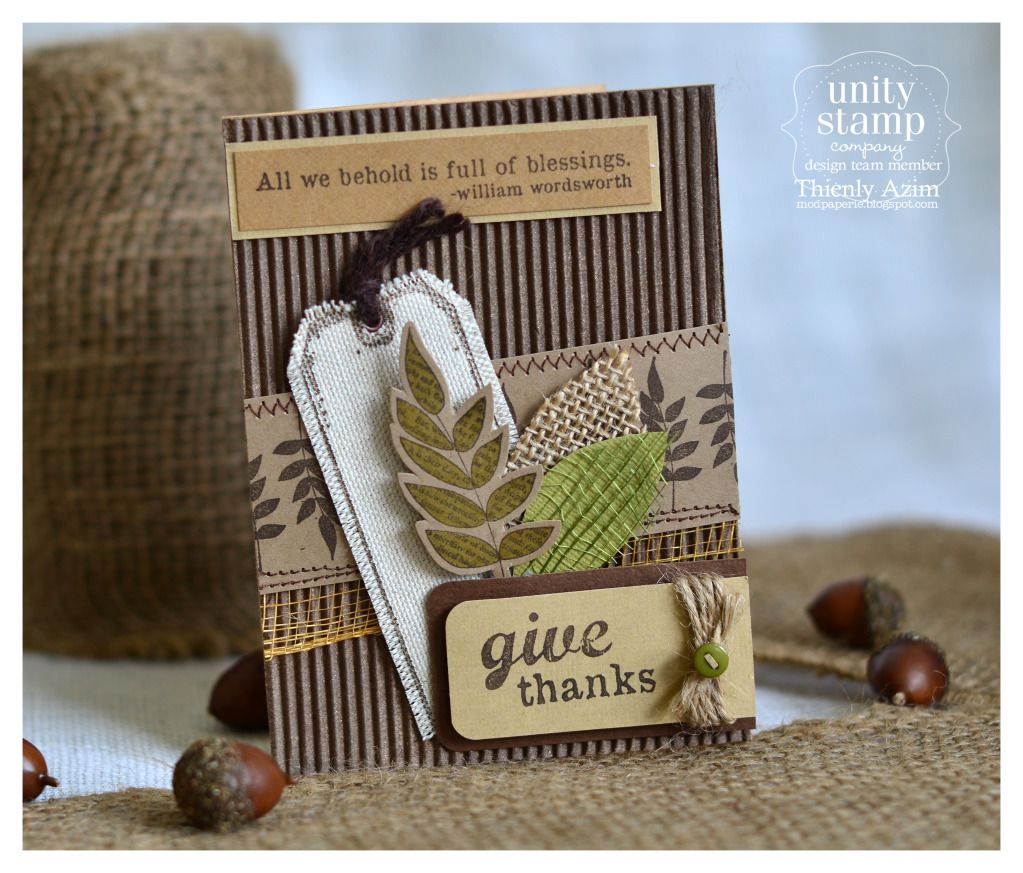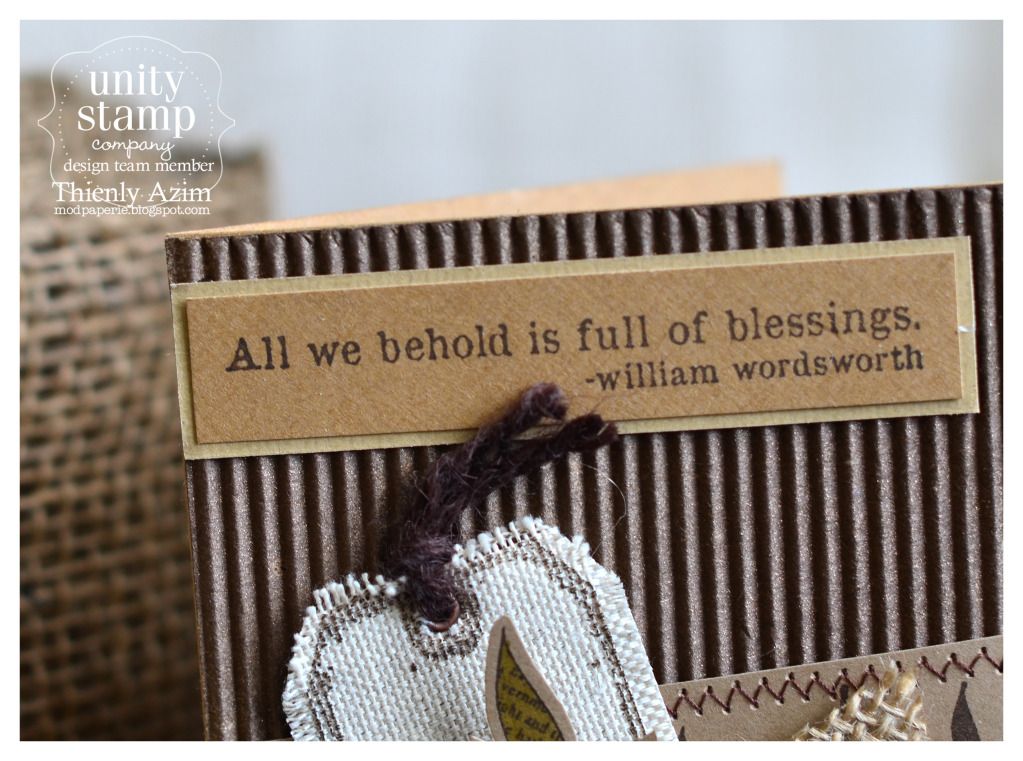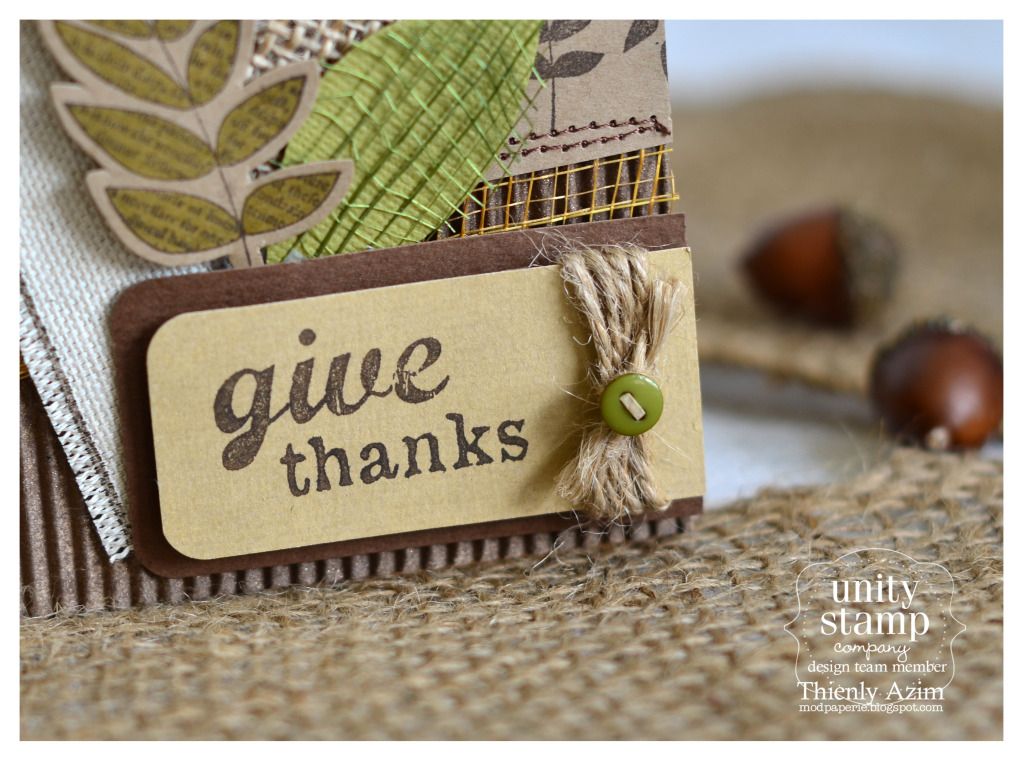 Don't you just LOVE these stamps that I used?
It's from
Give Thanks
...
stunning.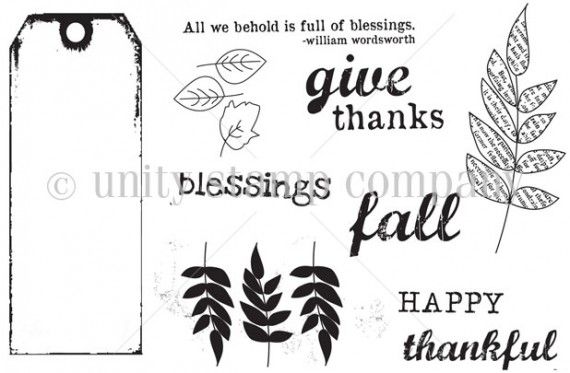 You can see that I have all sorts of texture going on here...
burlap, canvas, simanay mesh trim, jute twine, corrugated cardboard and machine stitching.


Makes it interesting, right?
Well, it's your turn!
Here are the deets for the challenges:
1. You MUST use Unity stamps.
2. Your card MUST be made specifically for this challenge.
3. You may not combine challenges.
4. You may enter as many as you like, but you may only win once.
5. Deadline i
s October 20th, 2012 at 11:59 pm (central)
Make sure you get all your entries in by then!
Link it up
here
, and if you do post on Splitcoaststampers forum, use this code:
UNITYWCMD2012B
That's it!
I can't wait to see all the entries!
Good luck!

Don't forget about the sale happening this week as well!



And...
Paper Issues
is having a World Card Making Day celebration!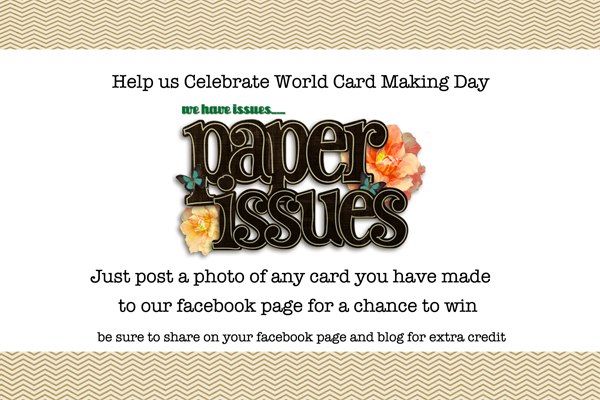 Simply post ANY CARD that you made for this day right on their
FACEBOOK
wall for your chance to win one of 4 $20 gift cards to their
STORE
! (If you're new there - let them know I sent ya :) )
Remember - you can use the
coupon 'modpaperie' to receive 20% off ANY ITEMS
in the store ANYTIME :)