Hey all! Happy Friday!
This week over at
Epiphany Crafts
, we've paired up with Authentique Paper! This was my first time playing with these papers and just fell in love with them. These papers are GORGEOUS - I just LOVE the feel of them! I was lucky to have had a chance to play with one of their new paper lines - 'Lively'.
For my project, I decided to make something that I've been wanting to try for the longest time. It' a tag frame. When I first saw these a while ago - I was amazed. I would have never thought to take out the frame inserts, and use the frame to suspend wires and hang tags on them. How clever is that? I give credit to whomever that thought of this first!
Anyhow, here's my project!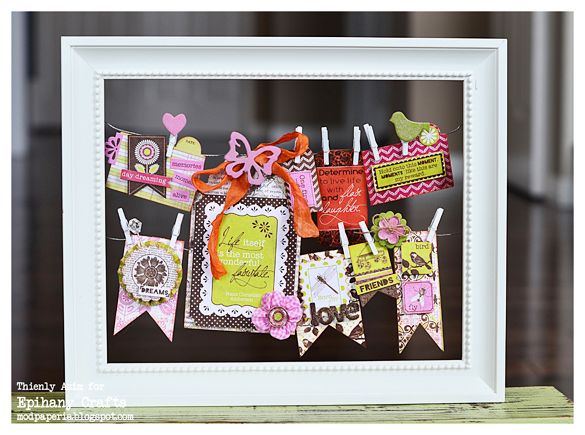 So fun, right? This is super simple, too - especially if you're working with a kit that comes with stickers and embellishments, make a few tags and hang them on the wires! My mom loved this - she asked me as soon as I was done taking the photos, if she could take it home. It was only after I realized that maybe I should have taken them on a lighter background... but was too late!
The butterfly and the heart is actually a chipboard and had the PERFECT ink to go with these paper colors! The orange crinkle ribbon did the trick here, too! When you're making a tag frame, use lots of dimension, texture and various sizes. It adds to the fun!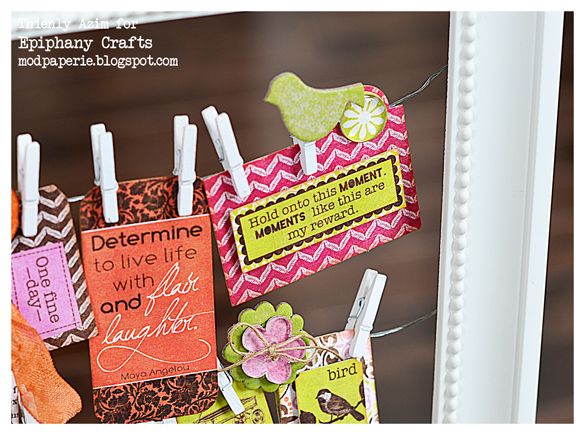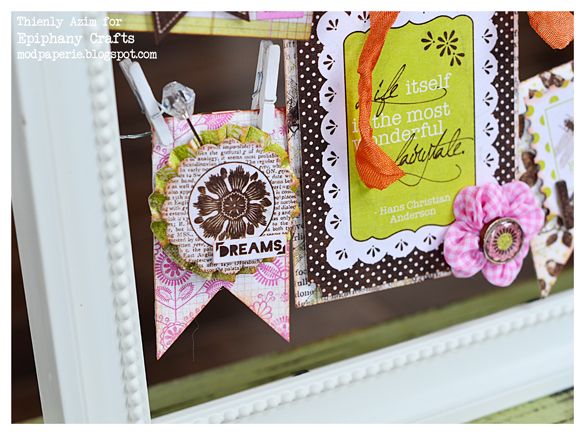 Rosettes are another fun item to put on the tags. I simply just folded the LOOOONG strip of paper back and forth, back and forth... and then glued one end to another. Easy!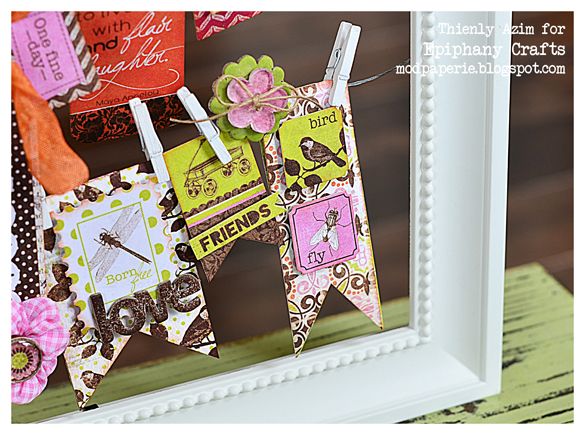 The Epiphany Crafts buttons and epoxy round shapes adds so much when I didn't have perfect buttons for these papers! Oh, and can't forget about the mini clothespin - love them so much and super fun way to hang the tags!
So, you in love with these Authentique papers yet? Here's a closer look at the collection!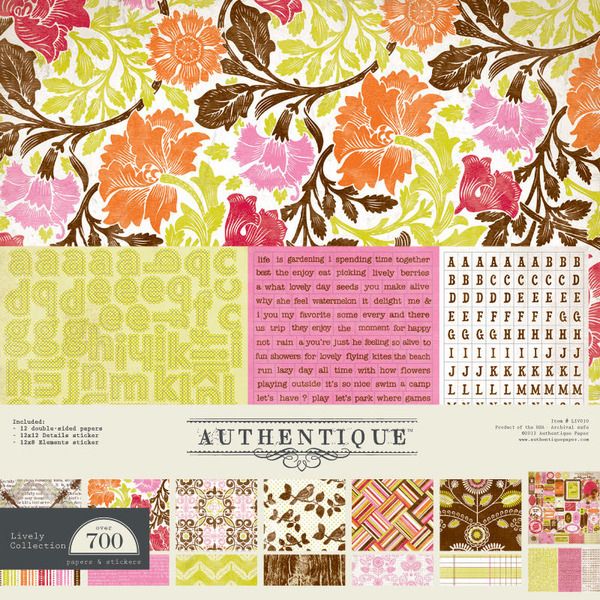 Head on over to
Epiphany Crafts blog
, leave a comment there today (and the rest of the posts this week) letting them know how much you love these papers! You not only get this collection, but also get 'Carefree' collection and an Epiphany Crafts Square Shape Tool with Epoxies!
Okay, hope you liked my project today!
Don't forget to come back here this Sunday! (well, feel free to come here Saturday, too! lol...)
I've got
TWO
posts to share with ya!