Hello to all my friends, FWF friends...
I am SO GLAD that this week is coming to a close...
I've been SO BUSY, and I feel like I'm running around without having time to breathe!
I just have a few more things that need to get done, and THIS SUNDAY AFTERNOON...
YES, in about
65 hours
... (can you tell that I can't wait?)
it'll be MY time.
(It's been all so fun,
but Halloween, baby shower, school volunteering,
planning for my hubby's Christmas parties, celebrating a birthday...
can all be SO exhausting, too!)
I'll hopefully get to craft from there, and catch up on all my friends' blogs and their latest crafts, etc...
Anyhow, I just wanted to post this card
(you may have seen it on the Unity Stamp Company blog
if you were curious about this week's Stamp of the Week #44 image.)
This one is totally practical - one that I'll know I'll use a lot.
It's a birthday stamp, and can't have enough of them!
Here's what I made!
I stamped the candles and stars onto separate pieces of paper,
cut them out and paper pierced it together.
(had to add my fave jute twine as a wick, too!)
The sentiment portion was inked, and the candles part was covered up with paper before stamping :)
I cut out little stars out from big star (in both vellum and kraft paper).
I sprayed the vellum with Mister Huey's clear Calico Mist and sprinkled some gold glitter on it.
Both were sewn together, and backed with yellow paper for the stars.
I got to use my washi tapes and my Heidi Swapp Color Shine (Primrose) as well!
BONUS!
Yeah, this card actually took
A LOT
of work...
I think that I was experimenting a bit :)
I've never let these mists 'drop' onto my work before, and I was SOOO nervous.
This is a new style for me, and just had fun doing it!
So, here's the image!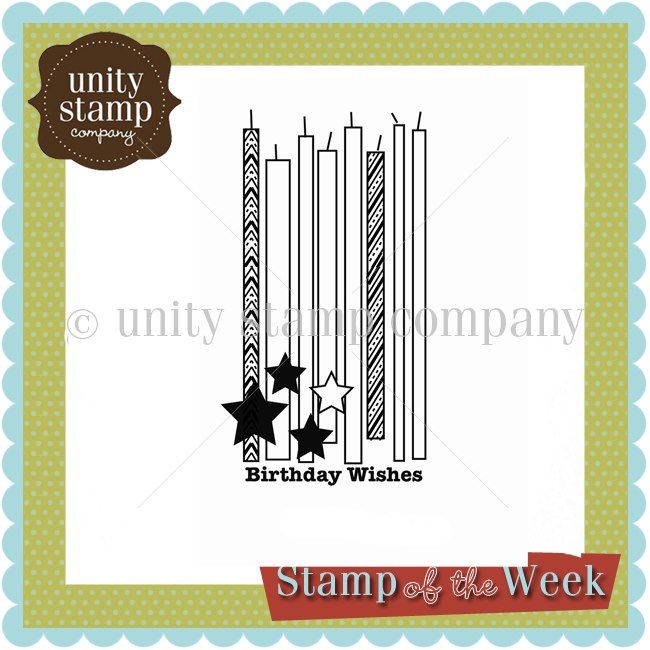 If you're interested in signing up for SOTW - click here.
Before I let you go - Unity Stamp Company is having a fabulous sale on the
itty bittys
!
It's buy one, get another for a $1, so it's time to stock up!...
you get a BIG adorable mitten stamp for FREE if you purchase over $30!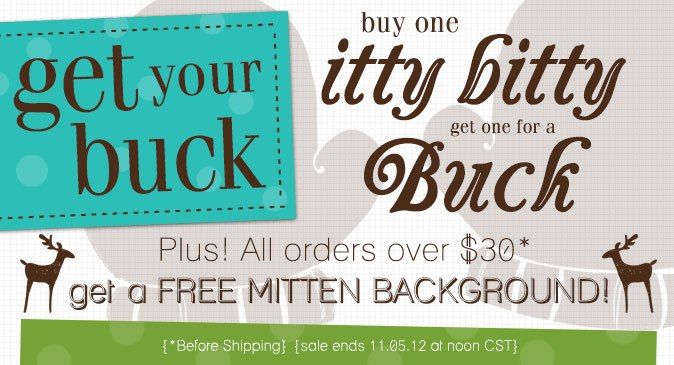 ...huh? You have all the itty bittys you could ever want?
Well, I know that's
impossible
,
but if that's the case,
take a look at the three NEW ones that just came out, too! SO CUTE!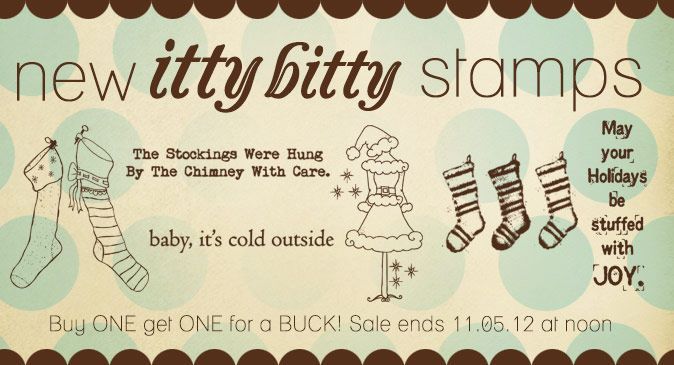 Anyway, that's it from me today... I promise I'll craft a bit more next week!
ALTHOUGH...
as busy as I may have been...
for the
SVG Cuts' fans
...
I actually did make a new design team project this week!
So, I'm off to write it up, and to take pics!
I have a hunch you're gonna like this one! :)
(I did use a Unity stamp on it, too!)
Have a beautiful weekend girls! :)