Welcome all!
(Hello to my
FWF friends
... it's a post from yesterday,
but had problems with the link so hope you don't mind if I join in today!)
It's another Hip Hop Thursday, so...
you should be arriving from
Shemaine's blog
!
Here's a whole list for your reference:
My project today has nothing to do with the 'tipsy' part of it,
but it's all to do with the NEW mini releases AND a SALE happening over at Unity starting today!
It's all about WINE...
(I certainly could use a glass right now)
and just felt like at least, getting into the spirit of it! Get it? Haha :) )
You should go see those releases - they are SUPER CUTE!!!
and can't wait to play with them!
I'm not a big fan of snow, but love snowman!
Something so magical about it! :)
The first one was inspired by these cute little wooden cubes, from Wall Sugar,
that I found at my local scrapbook store the other day.
I thought that it would be so cute to make a square snowman out of it!
I sanded the cubes to make rounded corners/edges (gives it more vintag-y look)
and used Carta Bella Winter Fun papers and Mod Podge'd them onto it.
The hat was made using a file from
here
,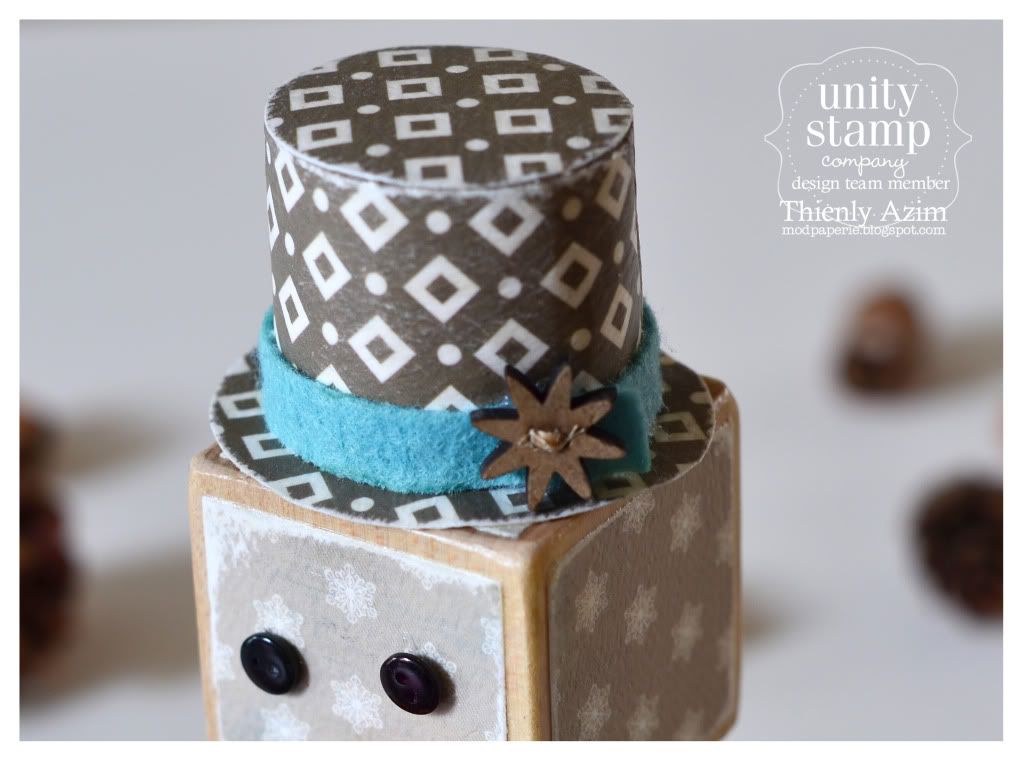 ...and used buttons for the eyes, and copper wire for the nose.
I took a pointy plier and wrapped the wire around and around to make it 'look' like a carrot.
I drilled a hole to fit pipe cleaner arms,
onto a cotton muslin fabric and let the snowman hold onto it!
Added some fashion statement by giving him a cozy light blue scarf, all fringed at the ends :)
I couldn't resist but to add a heart button onto him as well!
...and here's the final pic!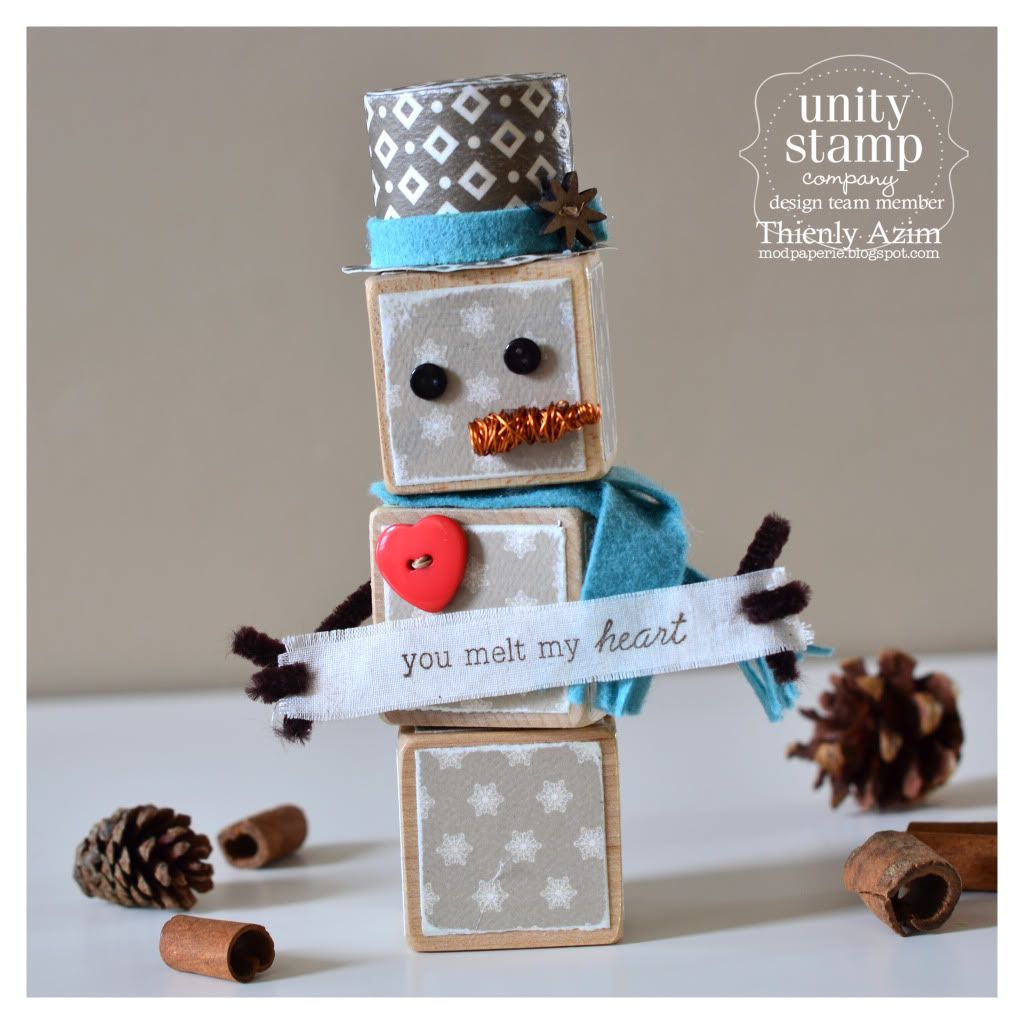 He's my new friend that sits with me while I craft :)
He's all waterproof, too! :)
Okay, my next one's a card...
using the same Carta Bella Winter Fun papers,
I love Carta Bella papers as you can totally sand the edges down to give it a vintage look.
Added some snowman magic using vellum, doily, liquid pearls and gemstones :)
The pretty snowflakes are from
here
.
...here's another view of it :)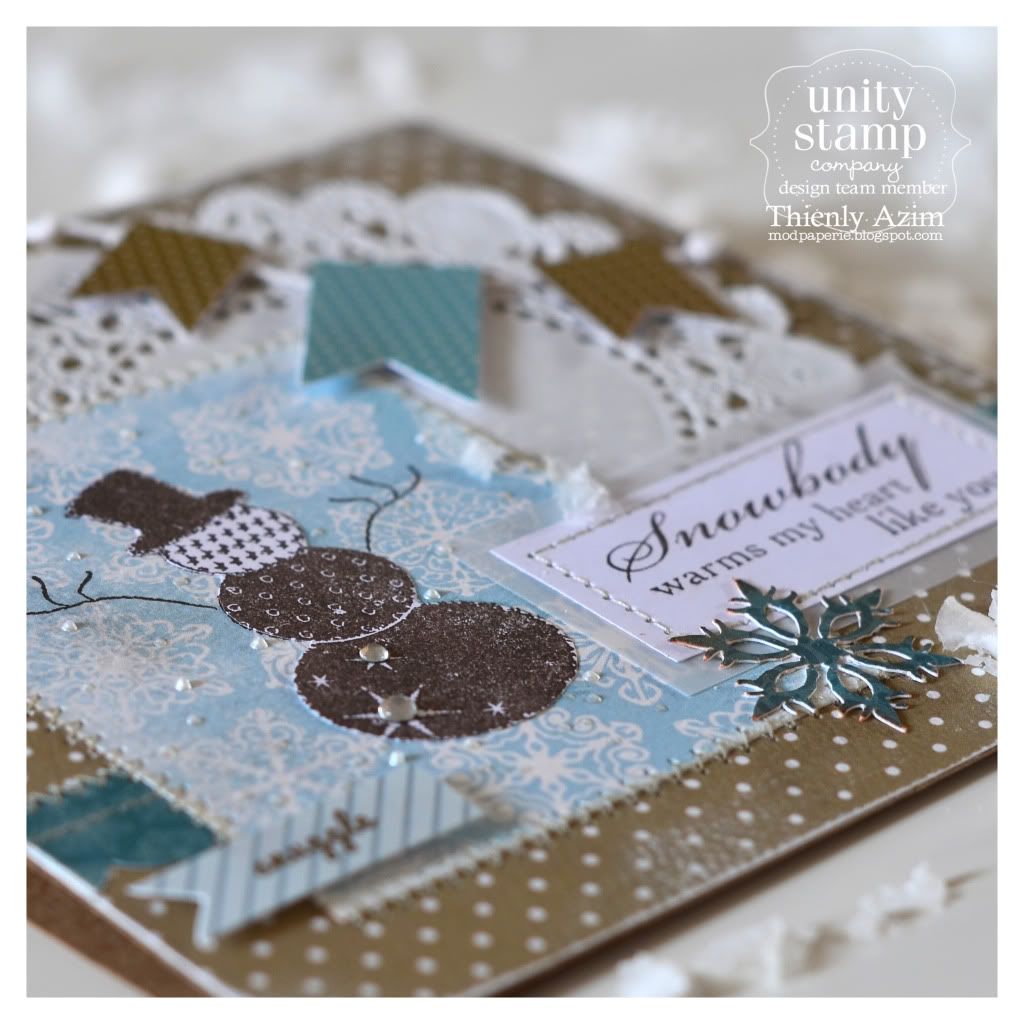 Hope you liked my projects,
and thanks for hopping with the Unity crew today!
Make sure that you leave comments
on ALL the blogs for your chance to win
one of three $20 gift certificates to the Unity Stamp Company store!
(winners always announced Saturdays!)