Welcome to the
Summer Shindig blog hop
! Are you excited??? I hope you are, 'cause I'm so excited to be a part of this amazing group of talented crafty ladies!!!!! To celebrate the beginning of summer, we thought that it would be really fun to make something to inspire you to craft for various summer events and parties. Hence, the name Summer Shinding was born :)
Now, if you just happen to stumble upon here,
the blog hop actually starts on Belinda's blog (
Bee's Hive O'Drama
), so please go there first and come back here, as I'm the second on the list!
You won't miss me too long! LOL! Belinda has been busy organizing this blog hop event for all of us, so if you could thank her, that'll be much appreciated. She's done an awesome job of keeping us all in the loop and getting us together. Thank you, Bee!
So, back to my project... I wanted to make something different, and a 3D project, 'cause I LOVE making things in dimension. You probably know that about me... One thing that I really love is to sit on the patio on those nice and warm summer evenings and relax the night away :) and then, it just hit me! Aha!!! Lanterns! That'll be really fun and different! So, that's what I did!
I found the lantern base over at
Lindsay's Stamp Stuff Party Lantern SVG Templates
and then I decided to change a few things to make it my own :) I took the base lantern, and for the lantern light openings, I customized it to fit the theme of each lantern. (You'll see what I mean!)
I made 5 lanterns in total, all having different themes to do with summer. All the files I used are from
Lettering Delights
. I was a little unsure of how it was going to turn out, but I'm very excited by the way it turned out and the lanterns actually work! Bonus! Even if it didn't, it's cute anyway!
So, are you ready to see????
WARNING
: I took A LOT of photos, and I'm going to warn you in advance that you're probably gonna get a picture overload... but trust me, they may look the same, but it's all different!
Here it is!!!! OMGosh! You don't know how excited I am to be showing you this!
Isn't it pretty? I hung them on a thick paper twine, and it looks so festive! I used the Summer Days Echo Park Paper Collection, along with their Dots and Stripes Paper for my whole project! All twine used here are from The Twinery.
So now, I'm warning you again, there's LOTs of pictures! I'll show you each lantern two sides at a time!
Here's the beach one!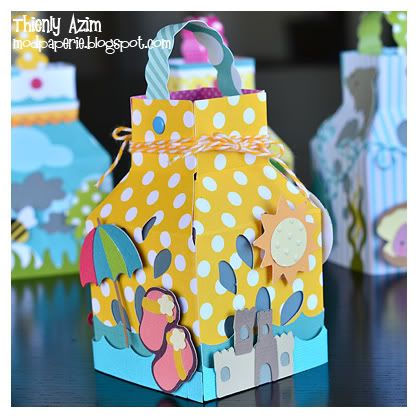 I cut out water splashes out from the lantern base. It's lined with vellum from inside to show through the lights. I used
Soak Up the Sun SVG Collection
for the cuts, the sun is from
Pucker Up SVG Collection
and the waves are from
Seven Seas SVG Collection.
Here's the other side..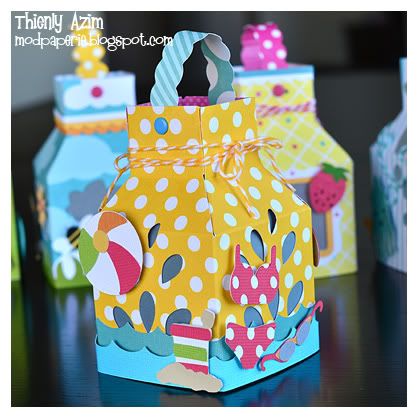 Here's summer outdoors lantern!
I used jewelry wires for the kite tail and bee and butterfly antennae :) The clouds are cut out from
Balloon Craze SVG Collection
and the rest of the cuts are from
Banner Day SVG Collection
(kite, flower & tree) (this one is
free!!!
by the way when you sign up for an account there),
Sweet Nothing Gift Card Holders SVG Collection
(bee & tree),
Sweet Nothings SVG Collection
(bird),
Cloud Nine SVG Collection
(birdhouse) and
Summer Treats SVG Collection
(border strip). Grass strip is from
Easter Morning Egg Hunt SVGCuts Collection
.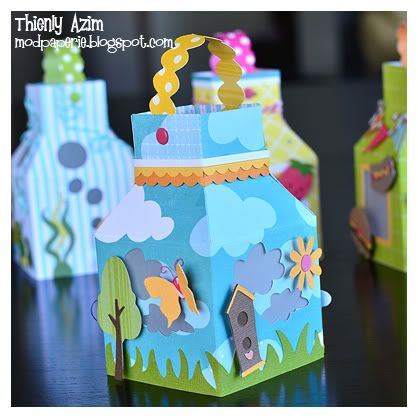 Here's the summer treats lantern!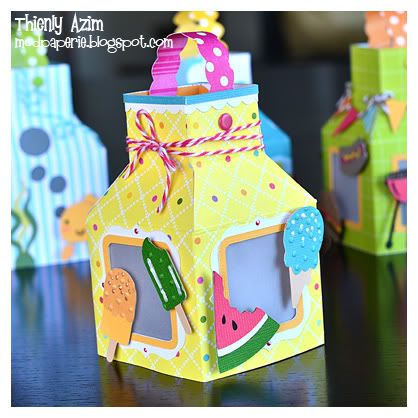 All of the cuts are from
Summer Treats SVG Collection
. I put the sprinkles on with Ranger Pearls.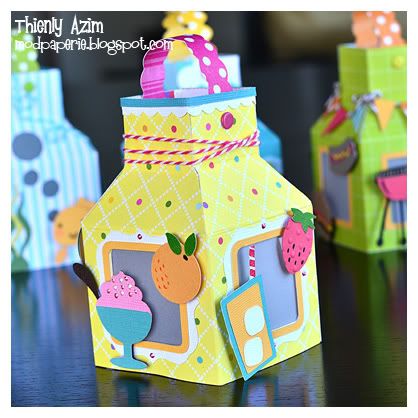 Some details are way too small here to cut out (the lantern measures about 3" wide on 4 sides and about 5" high) so I added in the small details by hand.
Here's the ocean lantern :)
Of course, here, all the faces were drawn with my hands. I got a little creative and glued loops of twine on the lantern to make it look like water bubbles. I think it's cute! Of course, my lantern light holes are bubbles, too :)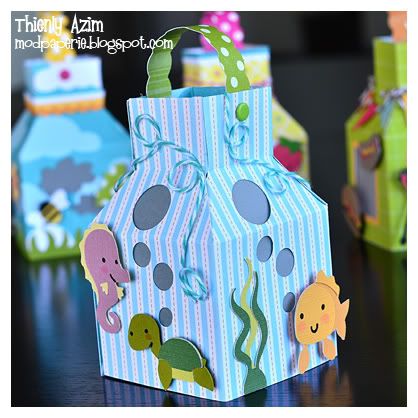 I just LOVE LOVE LOVE
Something Fishy SVG Collection
! So adorable!
Lastly, but not least, and I think that this is my fave one - the BBQ lantern!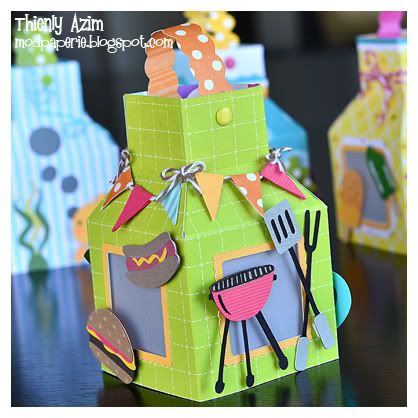 I love all the BBQ cutouts! They are all from
Backyard Fun SVG Collection
, except for the frame and pennants are from
Banner Day SVG Collection
. Makes me hungry looking at my cutouts! LOL!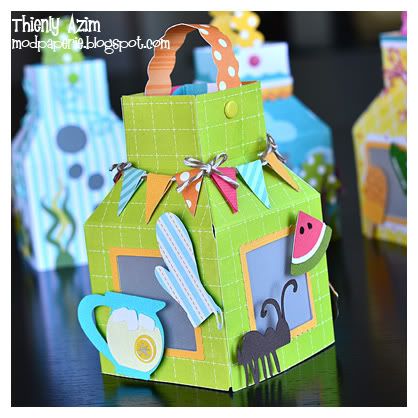 I got creative here again and put pennants all around the top part of lantern. It completes the party look :)
All of the lantern top straps are made from
Rosie's Ribbon Strips SVG Collection
from SVGCuts.
Okay, so you wanna see how these are lit up??? I know you do! I used these battery operated tealights that I had (from Ikea - few years ago - so don't go there thinking that it's still there!) and put them inside!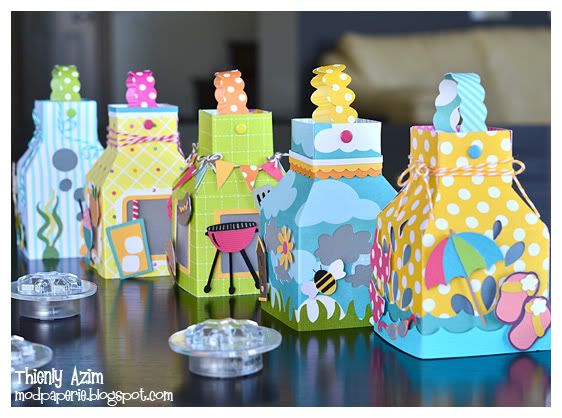 So, this pic was taken at dusk..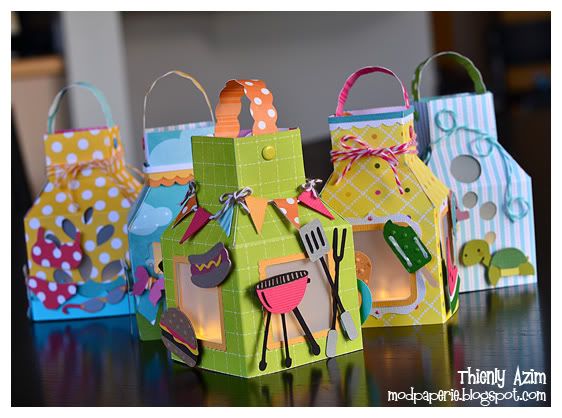 and this is later in the evening... actually about 10pm here where I live.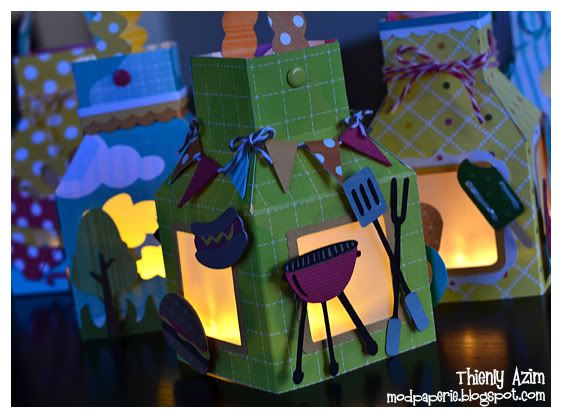 Isn't it pretty???
I hope that you like my project, and that you're not totally bored with all my pics!
Anyway, so I've got a couple of blog candy for ya!
I actually had several things that I was going to use for the giveaways, until today, it occurred to me that with the Canada Post strike going on, it wouldn't get very far... so I scrapped that idea. Instead, I'm offering two gift cards to two random winners!
One is for $10 to
Lettering Delights
, and the other one is for $10
SVG Cuts
. Are you interested??? Of course you are!
To be eligible:
1. Please go like my
FB page: Mod Paperie.
or if you don't do FB, then let me know so!
2. Come back here, and leave a comment! That's it!
The comment must be made during the blog hop days to be eligible.
Then next
Wednesday June 30th
, I will be picking two winners! Sounds easy, right?
Oh, and Lettering Delights are having a 50% sale on all their
Summer Collections
, so make sure that you get them before June 30th! Most of my project can be obtained for half price right now!
Thanks for coming to visit here, and yes, I'm gonna miss ya, but I'll get you going over to the next blog: Alyssa from
My Thoughts Exactly
!
In case you're lost, or want to know who all the amazing people are in this line up, here it is!
1. Belinda (aka Bee)
http://beeshiveofdrama.blogspot.com/
2. ME!
http://modpaperie.blogspot.com/
3. Alyssa
http://www.mythoughtsexactly.co/
4. Bee
http://dare2beecreative.blogspot.com/
5. Jessica
http://jessicascropcorner.blogspot.com/
6. Jin
http://underacherrytree.blogspot.com/
7. Julietta
http://4goofballs.blogspot.com/
8. Tamara
http://happylifecraftywife.typepad.com/
9. Ruthie
http://www.septemberninth.blogspot.com/
Okay, that's it! See ya later! Have fun hopping the rest of it :)