Hey all! I'm back today with another project for
Epiphany Crafts
.
This week over on their blog - we were to create anything using Die Cuts With A View (DCWV) papers. I chose on a Celebrations stack because it had variety of papers in there that seemed like fun to work with. It had journaling tags, borders, lots of graphics and fun colors.
Pretty much what you'll see on my project is all hand cut - and tried to make use of this stack to full extent. The only thing that I've cut out on cutting machine is the rosette, the stars and the scalloped cover. Otherwise, yup - all the graphics you'll see is EVERYTHING that you get from this Celebrations stack. I added in an occasional twine and washi tape.
Anyway, here's my project!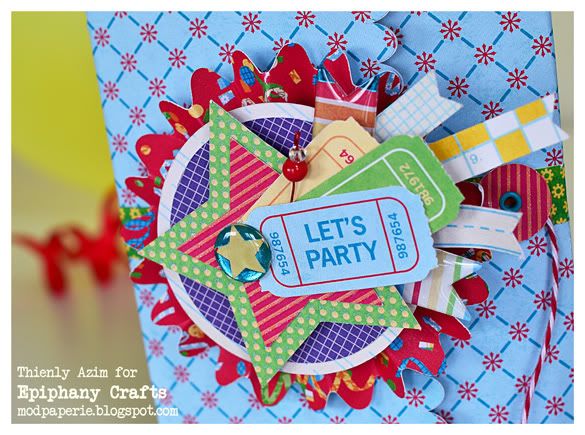 It's a Birthday Book! I made a little keepsake album where you can write in all your memories of your special day! I was thrilled to make this book after I saw all the keepsake tags in this stack. So this rosette that you see here is a file I got from
here
, and embellished it with circle/stars, and tickets from the stack. The ribbons that you see here are actual ribbon graphics that I cut out from the papers. Yeah, so easy! I also used the EC Pennant 25 to add some dimensional ribbons. Oh, and I also added a couple of beads for fun, from Blue Moon beads.
Instead of a regular little book, I decided to make it into an accordion album that opens up! When you open up the book cover, this is what you see! (I kept the album closed by adding in a little circle with an eyelet where I can twist the twine around it)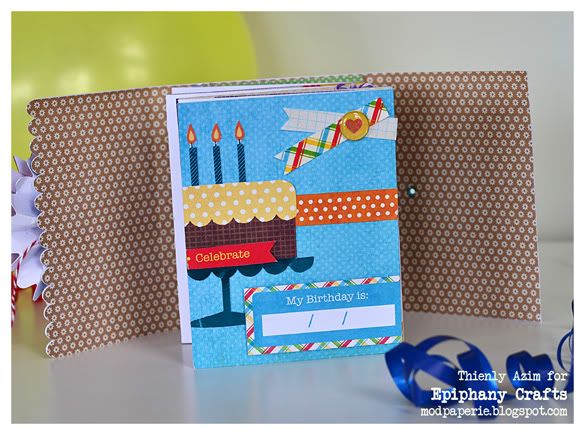 ...and when you pull the pages out - this is what it looks like: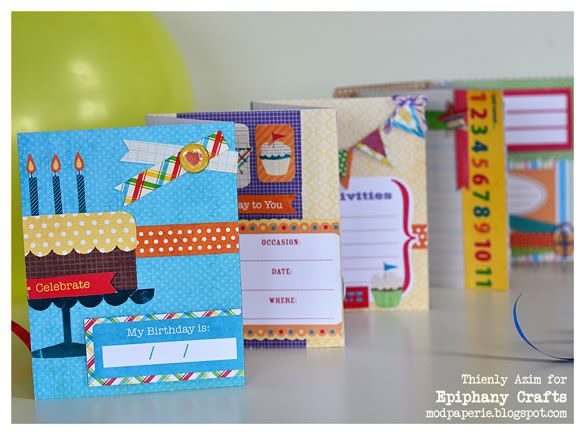 Fun, isn't it? And now, you'll see each of the pages upclose and personal! Lucky you!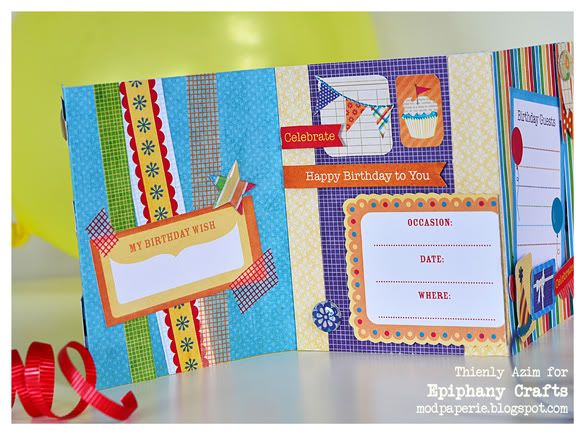 You'll see that I've added an Epiphany Crafts shape on each of the pages! I used Epiphany Crafts Shape Studio Round 14, Star 25, Pennant 25 and Oval 25.
So you like? Wanna make something like this? To make the album:
1. Cut 3 pieces of cardstock/patterned paper 12" wide by 5" high.
2. Score each of those strips into thirds, marking a line at 4" and 8" wide.
3. Fold each strip so that it looks like "Z" when viewed from the top.
4. Glue one panel of one sheet to another panel of another sheet. Connect all three sheets. This forms the 'accordion'
5. Cut another sheet 11.5" wide by 5.25" high (I added scalloped edge to one end).
6. Score at 3", 3 3/8", 7.5" and 7 7/8" wide (If you have a decorative edge, mark from that end). Fold to form a book.
7. Adhere the 'accordion' inside the book.
8. Make a decorative embellishment for the front. I made a rosette and decorated it. Adhere to the book.
That's it! Easy! Hope you give this album a try! It makes a fun little gift, too! Thanks for stopping by! Have a superbly crafty day!
Head on over to their
blog
- they are giving away AMAZING package of Epiphany Crafts and DCWV/Moon Beads goodness!